Keeping the money a restaurant earns is every bit as important as earning it.
Better Tracking Means Less Theft
Cash is the most important commodity to protect, and individual responsibility is the best way to protect it. Point of Success allows a till (cash drawer) to be assigned to one staff member. When one person is assigned to a till, only that person can accept a payment into the till. Individual responsibility means that you know where to look when a till comes up short!
Cash register tills and server and driver banks are tracked to the penny from the moment they're opened until they are closed. Tendered payments, additions, drops, and cash paid out are all detailed. Reconciliation reports with count worksheets help count and balance tills and banks. Server banking is a Point of Success Premium feature
.
Program Security Settings
Every user in Point of Success is assigned to a security group. Important settings like price changes, removing an item from an order that has been sent to the kitchen, order voiding and many other functions are all protected by security. If a staff member doesn't have permission to use a function, a manager can override the security setting to allow it to be used once.
Use one of the predefined security groups, create your own security groups, and modify security settings for everyone who works in the restaurant.
Employee Cards
Point of Success point of sale software requires a PIN code from each user to use the system. PIN codes can be entered manually or by using optional employee cards.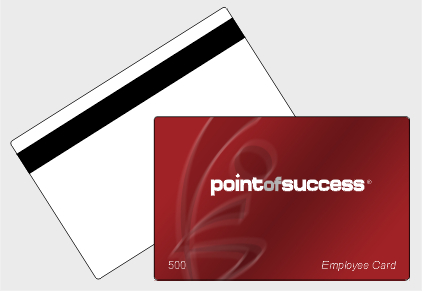 Employee cards have a more secure 10 digit PIN code encoded on the magnetic stripe. Use an employee card to clock in at the start of a shift, to log in for the Order Entry and Office Manager programs, and to clock out when a shift is complete.
Use of employee cards requires a magnetic stripe reader on each workstation that is capable of reading track two. A magnetic stripe reader intended for use with credit card processing is the type used to read Point of Success point of sale software employee cards. Hardware is purchased separately from your vendor of choice.
Click HERE for the brochure on the Employee Card.
Audit Trails
Point of Success point of sale software includes an audit report that lists every incident in the system that could be a security problem. This list can include:
Price changes
Order voids
PIN code attempt failures
Time clock changes
Removing items from orders
Security overrides
Regular review of the Point of Success point of sale software audit report can help to prevent and discover theft.
Food and Labor Cost Reports
Point of Success point of sale software produces ideal food cost reports and labor cost estimates. Comparing these reports to actual food costs and historic labor costs can reveal missing stock and improper time clock usage.
Ordering and Preparation With the System
Control free food, fraudulent orders, dishonest servers and other risks with Point of Success point of sale software. Require that all food prepared, every delivery dispatched and all payments received are processed through your point of sale system.
Helping to Secure a Restaurant's Computers
Point of Success point of sale software is designed to limit user access to the Windows operating system to help prevent access to the computer or its contents. User access is controlled through security settings and other means. To further enhance security, using a touch screen rather than a keyboard and mouse makes it more difficult to tamper with point of sale computers.
Want more restaurant point of sale software information?
Contact us for more information on Point of Success point of sale software!

indicates features available only in Point of Success Premium. See all the differences between Point of Success Standard and  Point of Success Premium point of sale software
here
.